Welcome to Amplification by Paceware where musical instrument and audiophile amplification are our primary focus.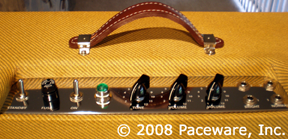 We assemble, upgrade, customize, and repair musical and audiophile amplifiers. Replicas of popular vintage amplifier designs made famous originally by Fender, Marshall, Vox and others are available with custom touches or upgrades to today's standards. Paceware's original custom designs or special requests of our customers can provide a unique, personalized experience.
We also assemble and customize amplifier kits available from sources including Weber Speakers, Mojo Musical Supply, and Ceriatone.

Paceware acts as dealer for Weber Speakers, Mojo Musical Supply, CE Distribution, and others. These resources allow us to create top quality amplification products.
EMAIL OR GIVE US A CALL WITH YOUR QUESTIONS, COMMENTS OR
TO REQUEST MORE INFORMATION ABOUT OUR SERVICES.
CRIS PACE

AMPLIFICATION BY PACEWARE
P.O. BOX 361196
MELBOURNE, FL 32936-1196

954.895.8443
BOB PACE

AMPLIFICATION BY PACEWARE
453 SUNDOWN TRAIL
CASSELBERRY, FL 32707

407.375.8723